Introducing the next installment of our newest blog series, MonkeyBusiness. We take the time to speak with some of the biggest names in lacrosse, past, present, or future, to get an insight on their path in the sport, the legacy they want to leave, and the steps being taken to #GrowTheGame.
Netanya, Israel. 7th game in 9 days against the best talent in the world. Gold Medal game against the reigning World Champion…wait, we've already gone over this…but one thing we didn't go over is what led that game to be tied, an absolute rocket from one of the world's best shooters, Team USA's Ryan Brown.
"I just remember that we got the ball back [after Brown's game-tying goal] and kept missing shots. Ned [Crotty] set that pick and they didn't switch it so Tom [Schreiber] caught the ball and did a little Tommy Twister and scored so things worked out," Brown said of what he remembers from the end of the game.
It is well documented that the end of the game was met with some scrutiny, but Brown noted that the speed of the game accounts for human error, and that the game would've been hotly contested no matter the outcome.
"When you're shooting at 100 miles an hour and there's only 15 yards behind the goal, the ball is going to be out of bounds in less than a second. It takes time for the guy with the clock to hit the button, which will cause a delay, but with quick restarts, we pick up the ball and throw it back in when they're trying to get the clock right so people are disputing the time, but we throw it, catch it, shoot, and score, so the time wasn't wrong, that's just how it works. It's a fast game," Brown said. "It would've been a heated game even if the final was 9-5, I mean it was the world championship. Especially on a last-second goal, they're not going to be happy no matter what. It only comes around every 4 years so I mean there's no guarantees that you'll make it to the next one. For some of us like it'll be the only time we're on team USA, so you can't take it for granted. You can't just think, 'oh we'll get them next time' because you might not be on that next team. Obviously, there will be another USA vs. Canada, but it might be different guys."
One of the youngest members of Team USA, Brown's experience in Netanya was boosted both on and off the field by some of the best players in the world.
"We stayed a bit outside of Netanya in a kibbutz that had a living quarter that was basically just us. It was great, we played some kangaroo court and some other things, it was a great time. I'll always remember just the time at the kibbutz because, you know, the WiFi was dropping out every other day and the TVs didn't work half the time, so we'd go to bed just watching the fuzz on the TV, the food was hit or miss, so it was quite a time. It was just a terrific experience overall, I don't know if I ever would've taken a vacation there or anything but to get to go and see the history and just everything off the field was amazing."
Known as one of the best shooters in the world, Brown is a prolific finisher with both his right and left hand, which helped him put up a team-best 25 goals in the World Championship, just one shy of the tournament record set by Mark Millon. This feat landed him on the All-World team, one of the 4 Americans to be named to the team.
"Paul [Rabil] is one of the best dodgers in the world, Jordan [Wolf] is one of the best, Rob [Pannell] is one of the best, I mean I would be like the 6th option of dodger [on Team USA] so I would just play off-ball. The best offensive units have guys that complement each other. If you have three dodging attackmen, no one moves and they run into each other, so you have to find the combination of a shooter, dodger, and off-ball guy. If you look at the 46-man roster [Team USA's invitational camp], you can make a case for every single guy. At that point, when you get into the best 6, 7, or 8 attackmen in the country, there's not too much to decide between them, so you have to look for who works best together. It's not so much 'he's better than him', but rather, 'he works better with him or them', so it's just mixing and matching and trying to find that combination."
Brown is another one of the growing number of players who are making lacrosse a full-time career, supplementing his MLL contract with various camps, clinics, and coaching gigs across the country. He runs a nationwide shooting clinic with Atlanta Blaze midfielder, and recently-named assistant coach for USC, Deemer Class called RBDC Lacrosse, which travels to different cities multiple times a year to help train players on proper offensive techniques.
"Just this year we really tried to get into more girls training and help grow that side of the game. Obviously there's lots of guys that run clinics for the guys game, but outside of like Taylor [Cummings] or Kylie [Ohlmiller], there's not a lot of training out there. Especially with the changes in the women's game, they are being more allowed to kind of shoot how guys shoot, so that's opened up a huge business for us," Brown said. "We're continuing to go to different places, as well as revisiting markets and regions we've already been to. That's something we really like to do, when you work with one kid one time, that's great, but if you work with the same kid two or three times a year, that's when you can really see improvement. You start to stack that progress together. You work with a kid for two hours, boom, then you see him again in a few months, another two hours where you start to see what to adjust or what's going wrong, then again another two hours, you start to see that growth and start to develop relationships and you're going back and forth, which is a great thing and lets you really help them more."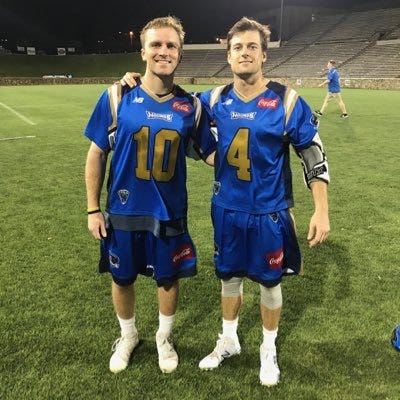 A native of Sykesville, Maryland, Brown stayed close to home and attended Johns Hopkins, putting up 209 points (159 goals, 50 assists), good enough for 2nd all-time in career goals. He also earned 3 USILA All-American honors and was the 2015 Big Ten Offensive Player of the Year.
"My recruiting was kind of all over the place. I didn't play lacrosse my sophomore year of high school because I was transferring from Mt. St. Joe's to Calvert Hall, and you have to sit out a year if you transfer in conference. Kids were starting to commit in like the beginning of that summer based off of what they had already done in high school, but I didn't have that year of high school, so I was thinking, 'oh gosh what have I done, I really need to crush it this summer. I didn't just play high school for a full season, I've really got to do well,' so that was tough."
"Growing up watching Hopkins and going to those games, it was a place that had so much lacrosse tradition and was just a great school, and it was just the best combination of high level lacrosse and great academics, which was really important to me. In high school, I transferred to a school that cared much more about lacrosse and I wanted that in college, and at Hopkins, like it's medicine and lacrosse, so that's what drew me in. Of any college you could go to, I think (Hopkins) is the place that cares the most about lacrosse."
The 4th overall pick by the Charlotte Hounds in the MLL draft in 2016, Brown was a 2017 MLL All-Star and is newly sponsored by Warrior/New Balance.
"[Warrior] is so well established in the lacrosse community as far as a brand goes. You think them and probably STX are the biggest brands in the game, so it's very exciting to now be a part of that. Growing up, you see like the biggest guys in commercials and think 'oh that would be so sweet to be in a commercial and get free Warrior stuff,', and now I'm here so it's really exciting getting to join them. All the other guys on the Warrior roster are terrific players so getting to be recognized as one of those guys is pretty cool."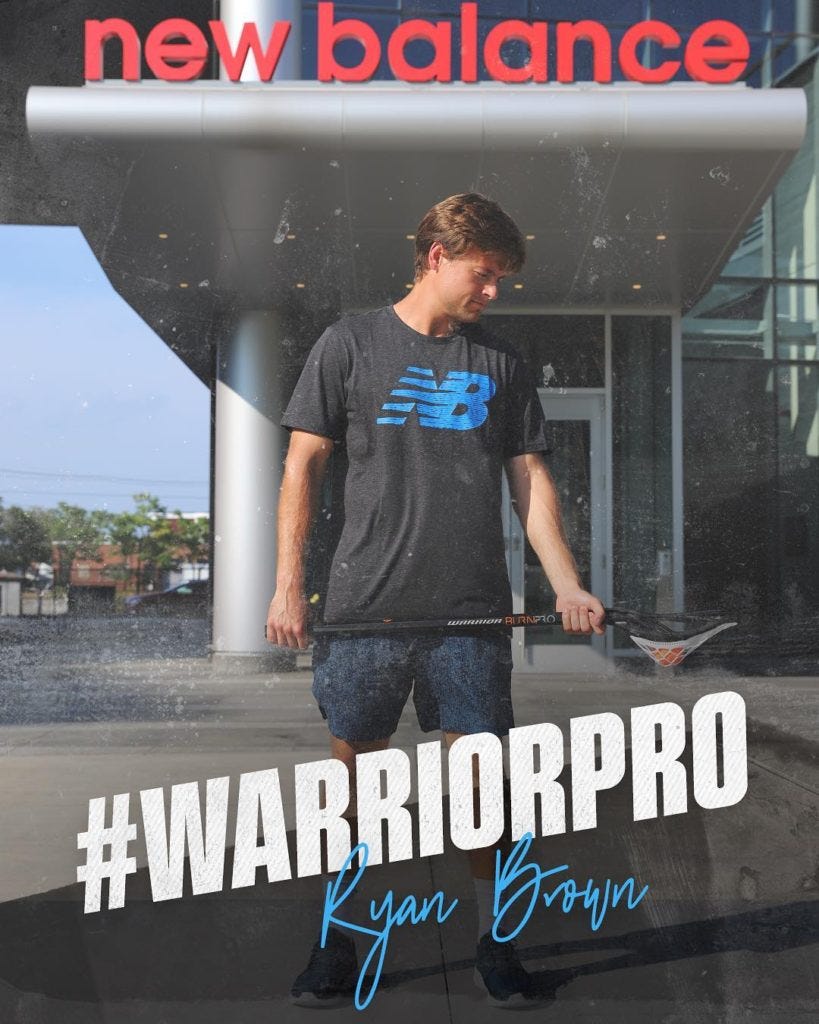 Having signed after the end of the 2018 MLL season, Brown is using the next few months to decide which Warrior products he wants to use moving forward, including trying to create his own Warp head that he feels comfortable with.
"It's not super set in stone that I'll use a Warp or anything, but if I can get to one that works for me and that I can play with, I don't see why not. The idea and the thought process behind it is terrific. A stick that's never going to change on you and that you don't have to string, and it'll always be consistent, who wouldn't want that? The biggest thing with me is like, my stick is a little different in the way that I string it up. It's got a good amount of pull in it, so getting something along those lines will be a little bit of a challenge, but I know we can get there. It's a great idea and it would be awesome to get to."
With more and more top athletes using Warps, the technology is constantly changing and improving to allow for more customization, and an easier transition into the sport.
"One of the original thoughts behind the warp is to address one of the biggest problems in growing the game. Obviously it's one of the fastest growing sports, but I also think it's one of the sports with the biggest retention problems. A kid can pick up a stick and not have a good experience and just be turned off by it, so this is the solution to that. It's a great idea that a kid can pick it up and throw with it right away, they don't have to worry about a pocket being too stiff or anything, so it's great. If the first stick a kid uses is a warp and he plays with it for a couple years, then that's all he knows and that becomes the norm, so I think that's one of the biggest positives with it."
As a past coach for Marquette University, Brown believes that the sport is in a great spot for growth, and, with help from products like the warp that improve retention rate, will continue to grow in the near future.
"It's great to see all these teams added in the last ten years. The MLL is still where the most talented talent is in the sport, but the pinnacle of what people watch is college lacrosse, so the growth at that level is awesome to see. Then you look at the girl's game which is booming as well, I think between the two, it's great to see all this growth at the top because it allows kids to see the game at a bigger level, instead of just seeing Hopkins and Syracuse, or some of the more traditional schools."
Brown recently moved to Dallas, Texas, to help run a youth club team, as well as help coach the Highland Park Scots. He will make his way to Warp City in Detroit soon to help design warps and will continue to run RBDC clinics across the country.