Introducing the next installment of our newest blog series, MonkeyBusiness. We take the time to speak with some of the biggest names in lacrosse, past, present, or future, to get an insight on their path in the sport, the legacy they want to leave, and the steps being taken to #GrowTheGame.
Netanya, Israel. 7th game in 9 days against the best talent in the world. Gold medal game against the reigning World Champion. Score is tied at 8. Two seconds left. Rob Pannell starting with the ball from the endline…
"Honestly, I remember the first pass to Tom more than I remember the one that he scored on. I kind of blacked out at that point and I don't remember what was going through my head. I knew I couldn't get to the goal in two seconds, so I had to throw it, and a lot of it was to Tom [Schreiber]'s credit and Ned [Crotty]'s pick to get him open," Pannell said of the feed that led to the game-winning goal that secured the Gold Medal for Team USA at the FIL World Championships this past July.
In the midst of a record-setting season that ended with the Major League Lacrosse's Most Valuable Player distinction, Pannell made his second appearance at an FIL World Championship, avenging the loss in the gold medal game to Canada in Denver in 2014.
Photo Courtesy of Rob Pannell's Instagram
"[This year's tournament] really had that international feel. 2014 being in Denver, being from the U.S. and playing out in Denver every year to play the Outlaws was like 'ok, it's in Denver.' You didn't really feel like you were at the World Games. But then getting on an airplane together, flying 11 hours to the Middle East, and landing in unfamiliar territory where you don't really know anything brought that international feeling to lacrosse."
Pannell and the members of Team USA were joined by 45 other teams from around the world, marking the biggest World Championship field in the tournament's 51-year history.
"It's amazing to see the growth [from 2014 to 2018]. That's always the unique part about being Team USA or Team Canada is that a lot of those other countries are there to see you guys and be around you and interact with you, that's the coolest part of everything."
After winning the World Championship, Pannell returned to the New York Lizards to continue the MLL season, one in which he broke the MLL record for most points in a season with 78, a mark that he set himself in 2016.
"You never really go into a season trying to break records. More so, you're looking at what you can improve upon year after year and what changes you can make to go into that season better than you were the previous season. Something I really focused on this season was my physical shape and making sure that I was in the best shape possible. It's an intense game, it's fast, it's a grind, and I think that if you can really focus on your fitness, it'll allow you to have some success. I did that more than anything, and during the year I was able to get out on the field more during the week to get reps in, more than I had in any of my previous seasons."
Photo Courtesy of Rob Pannell's Instagram
Unlike most other large professional leagues in the United States, many MLL players have jobs outside of the sport, and are unable to have a stable practice routine with the team.
"It's every player holding themselves accountable. It's up to that individual and how bad they want it or how bad they want to be successful on gameday. We have a great team in New York and I had a great group of guys around me, so we'd always push each other to get out there when we'd be around. I'd text Joe LoCascio or Will Manny and we'd get out there to get some reps in, or I'd go out there on my own because I know my teammates are doing it and I don't want to let them down, so it's just committing to it and committing to being consistent with it, and I think I was able to do that for the whole season."
With four of the 14 40+ point scorers in the MLL playing for the Lizards, including all-time points leader Paul Rabil, Pannell said they were able to find a good balance of offense which helped him set the single-season points record.
"We definitely have our sets and a set of principles to try to get the ball moving, but it's also just letting us be the lacrosse players that we are. Will Manny had his best year, I think Joe Walters had his best year, Paul had another great year, we've just got great players all around, and to make us robots is not the answer, but to give us a set of principles to organize us and allow us to play within it was the best combination. The more consistently we were able to play together was the more we could get on the same page and trust each other. Trust that each guy would make the right play and not try to be too selfish. I think we did a really good job of that this year."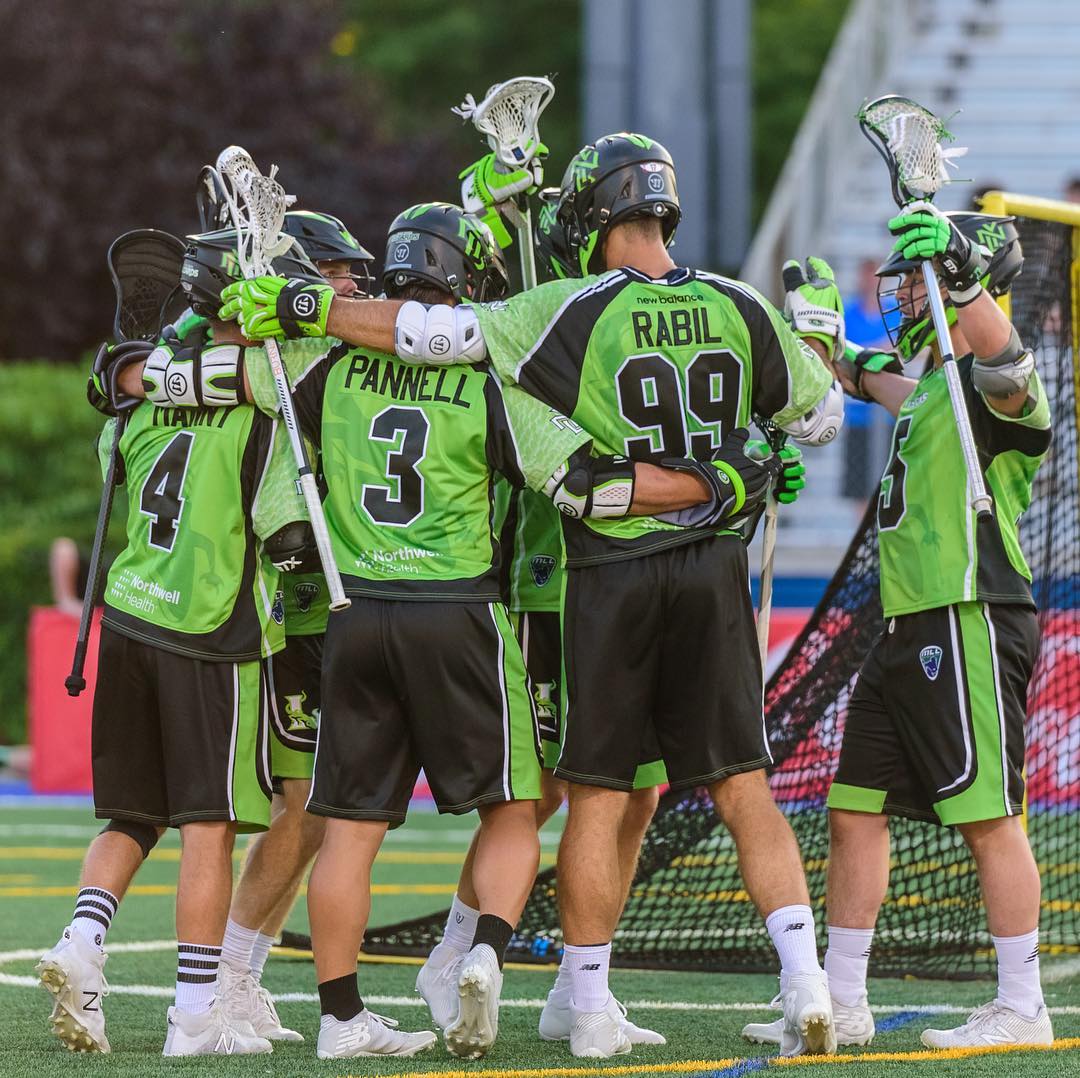 Photo Courtesy of Rob Pannell's Instagram
Along with his gold medal and 2018 MLL MVP award, Pannell is a 4-time MLL All-Pro, 5-time MLL All-Star, 2016 MLL Offensive player of the year, and MLL Champion with the Lizards in 2015, as well as the 2013 Tewaaraton Trophy winner for best player in college lacrosse while at Cornell, 3-time Ivy League Player of the Year, and 3-time All-American, among other recognitions. With so many accolades and distinctions, the 28-year-old Pannell said that his motivation to succeed has always been a part of him, and is, to an extent, human nature.
"I think I'm motivated by our belief in ourselves that we can be better and always want to be the best that we can be. I play this sport because I love it, I play this sport because of the people that I've met and the relationships that I've made. It's been amazing, and I'm going to continue to play it if I think that I can continue to take my game to another level. From 20-years-old up until this point, I think I've been able to improve a little bit each year, and I think that's the ultimate goal. I've always had that mentality, that if I do something, I want to do it to the best of my ability and I want to make sure that I'm the best that I can be. Controlling what I can control and allowing me to be the best player that I can be is the mindset I've always had, and it's worked for me."
Prior to his time at Cornell, Pannell took a post-graduate year at Deerfield Academy in Massachusetts, where he set the school record for points in a season with 99 and earned the Stewart Lindsay Jr. Award for the Outstanding Attackman in Division 1 Lacrosse.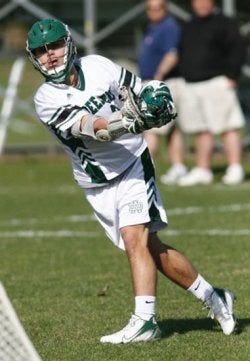 Photo Courtesy of LaxAllStars
"I was young. When I graduated high school in 2007, I was 17 with a December birthday, so I was always young (for my class). I was a late-bloomer and I wasn't really recruited because during the recruiting process, I was a little smaller, a little under-sized, so I always got overlooked. I went to Deerfield to give myself an extra year to mature and be recruited, but even there, Cornell was the only school that wanted to take a chance on me."
Despite his success in high school and at Deerfield, Pannell was still underrecruited, and after committing and decommitting to Quinnipiac University in Connecticut, he was limited in the amount of contacts he could have with certain schools.
"It was a little complicated. I signed a National Letter of Intent with Quinnipiac, but after I told them I wanted to look for a bit better school, they didn't release me, so I couldn't talk to scholarship schools, which only left me with the Patriot League schools and the Ivy League schools. I honestly had no real interest in going to an Ivy League school. I always wanted to go to UVA, that was my dream school, but when I got to Deerfield, I was talking to all the Ivy's and none of them really came on strong. Actually, most of them told me they don't have a spot for me, but Cornell came on later when I really had no place to go, but I went up there to check it out and really hit it off with the coaches. Luckily, we found each other, and the rest is history."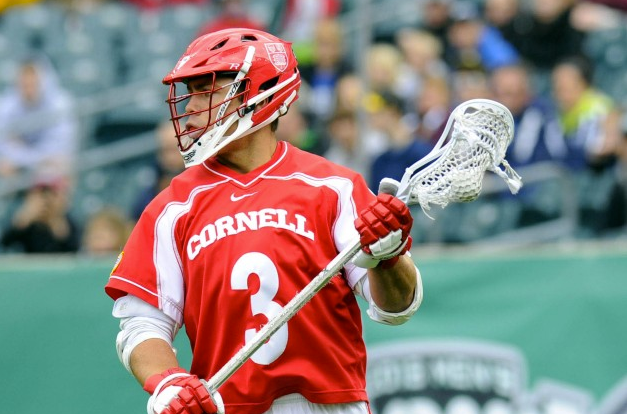 Photo Courtesy of Lacrosse Playground
Growing up in New York alongside his younger brother James, Pannell played basketball, golf, and tennis, but decided prior to high school that lacrosse would be the sport he dedicated himself to and wanted to play at a collegiate level.
"It was probably middle school when I decided lacrosse was the sport for me. I was still taking private tennis lessons and was on the golf team, but as far as being realistic about going to college and playing a sport in college, I had the best chance at playing lacrosse. I also loved the sport the most, I loved my friends that I was around and the relationships I made in the sport, and it was just sticking with that."
James has since gone on to play collegiately at the University of Virginia, and is a member of the Boston Cannons, leading the team in points this past year with 48.
"It's the best [seeing James have success at the professional level], he's the man. I love seeing him have success more than I love seeing my own success because he's my brother and I love him and have grown up with him. I know it's been a long career for him, he's had some injuries and never really got to reach his full potential in college, so for him to know be having success and be a top ten scorer in the MLL this year, I couldn't be happier for him. I know that he's having the most fun playing lacrosse now too. To be back and doing well and doing his thing, I know he's just really enjoying playing the game."
Photo Courtesy of Rob Pannell's Instagram
Pannell has always been on the cutting edge of the sport, and as a Warrior/New Balance sponsored athlete, he was one of the first athletes to use the Warp at the Major League level.
"The warp is only going to help the growth of the game with how simple it allows a kid to find a stick that works for him to catch and throw and learn the game without getting frustrated. It'll improve the entry to the sport and allow kids to play it easier without getting frustrating and maybe not sticking with it as long as they should. I think at the elite level, with the customization abilities of the warp and of the technology, and really how specific you can get with each pocket, I think it's only going to allow players at the highest level to continue to reach new levels in their game."
After roughly a year of dialing everything in with the Warp, Pannell landed on a specially-made Whip 4 Evo Warp with a low-mid pocket and special texture inside the mesh that can grip the ball a bit better for quick dodges and better control on shots and feeds.
"It's really about consistency. Consistency is a big thing for me just in life, and to know in my stick that I can be playing with one in a game and have one on the sideline and never have to worry about it being illegal or anything and just knowing that every time I go out there, it's going to perform the same in any weather is a settling mindset. It's one less thing you have to worry about going into a game."
Photo Courtesy of Rob Pannell's Instagram
With the help of ever-improving technology like the Warp, Pannell believes the MLL and lacrosse as a whole will continue to grow in the near future.
"I think the next few months will be a very interesting time in the lacrosse world. We'll have to see how a few things play out, but I think this sport is still one of the fastest growing sports, and more people are playing it now than ever before. It's only on an upward trajectory. I think we'll see Division 1 college teams being in the 80s in five years, I see more professional teams in the indoor and outdoor leagues and just taking the right trajectory up. Having more guys like Paul [Rabil], Kyle Harrison, Tom Schreiber, and myself who really commit to growing the sport and doing it full time will show kids that it's possible to make a living in lacrosse and play the sport you love beyond college, and that will only help it move in the right direction."
When asked about what tips he had to make it to the next level, Pannell emphasized the importance of staying calm and not stressing the things that are out of a player's control.
"Focus on being your best, not trying to be better than someone else or trying to be someone else. Focus on being your best by controlling what you can control, and that's your work ethic, your commitment to being consistent in getting better and improving, then certain aspects of your game. Depending on your age level and where you're at, you not going to be able to control being able to bench press a ton of weight or run by someone, but you can control how great your stick skills are, how detailed your footwork is, how accurate your shooting is, and so on. Those are the things I'd focus on the most when trying to improve."
Now in the off-season, Pannell will continue his podcast, The Four, and his vlog, as well as running various camps, clinics, and workouts with the PlayerStudio Attack Academy in and around the New York area.