Introducing the next installment of our newest blog series, MonkeyBusiness. We take the time to speak with some of the biggest names in lacrosse, past, present, or future, to get an insight on their path in the sport, the legacy they want to leave, and the steps being taken to #GrowTheGame.
When one thinks about California, they think about the beach, palm trees, Hollywood, and traffic. One of the last things they would think about is the sport of lacrosse, but thanks to Denver Outlaws' midfielder Mikie Schlosser, a native of Davis, California, and TRUE Temper's Lorne Smith, an ex-MLL player and Princeton lacrosse legend, the lack of recognition might slowly be a thing of the past.
"There really is a lot of kids that have interest in playing lacrosse, but even with that, there's still limited exposure. You could go to any given elementary school and half the kids there, maybe even three-quarters of the kids there, have no idea what the game of lacrosse is. That's something I think that as coaches and as players who played in the area, that's part of your duty to get out there try to promote the game so that every kid at least knows what it is and has that option to give the sport a try. It's amazing to me really how many kids just don't know about it," Schlosser said.
Despite limited exposure, Schlosser was first introduced to lacrosse in middle school, playing for Davis' youth program. Staying local, Schlosser then played for Davis Senior High School, being named a two-time high school All-American, as well as a Top 100 recruit, committing to the University of Michigan to continue his playing career.
"I think my mom heard about through a parent newsletter or something, I don't really recall exactly how, but I wasn't playing any team sports at the time, so she asked if I wanted to give it a try and I was like, 'sure, why not?'," Schlosser said. "I actually really didn't like it at first, I was out of shape and I couldn't pass or catch, but then I started practicing a little bit and had some good buddies that were already playing it and ended up really loving it."
Both Schlosser and Smith believe that lacrosse out west is growing, and thanks to schools like the University of Utah introducing Division I lacrosse, the opportunity for growth is higher than ever.
"I'm very hopeful and optimistic (for lacrosse growth out west). There is definitely a market out here now with so many kids playing, and it's really awesome that Utah was able to take the plunge. My hope is that other Pac-12 schools will hop aboard, and I think it would only take one or two California schools to announce lacrosse to spur on at least a few more to consider it, if the funding is there and if it works for their schools," Schlosser said.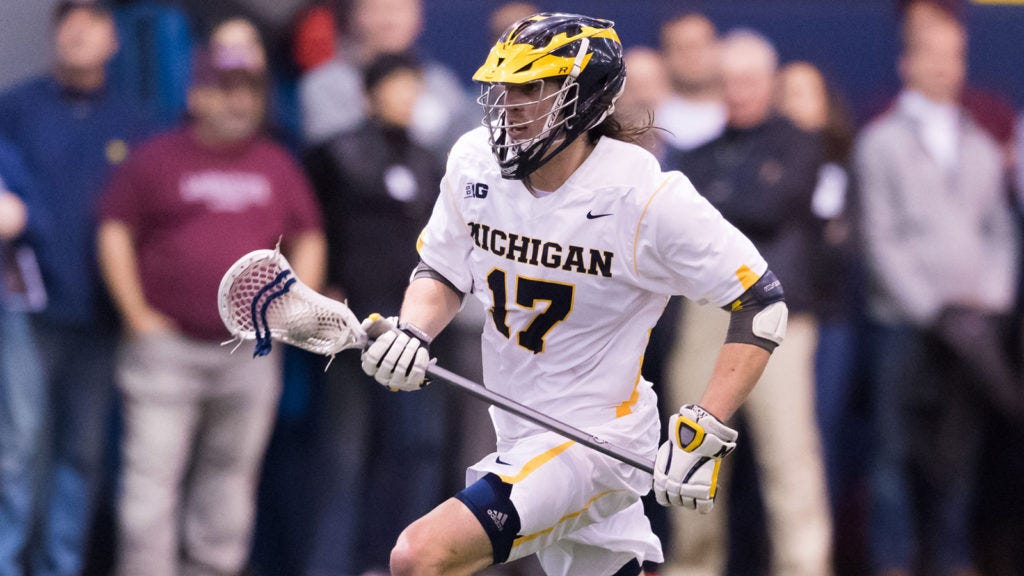 "I think there's so many factors in a school being able to go Division I in men's lacrosse and it's a really unique situation to every school as to how they can go about doing that, but as far as the growth of the game goes, there's no doubt that the Pac-12 deciding to go Division I in men's lacrosse would be a huge catalyst to tipping us to that next level. Growing up in Baltimore, it was every weekend getting to go see Hopkins or Loyola or Towson and not even having to drive an hour to go see games. Having all that lacrosse right there helps kids grow up with that expectation of good college lacrosse, and that becomes the norm. Then if you think about kids out here with a favorite Pac-12 football school, being able to cheer for them in DI lacrosse would be huge for the sport and the growth of the game," Smith said.
A native of Baltimore, Maryland, Lorne Smith took up lacrosse at age 6, and has had a stick in his hands ever since. A member of Team USA's U-19 World Champion team in 1996, as well as three-time All-American midfielder and a three-time NCAA National Champion at Princeton University, Smith was one of the first players to play Major League Lacrosse, being a member of the MLL's Summer Showcase in 2000.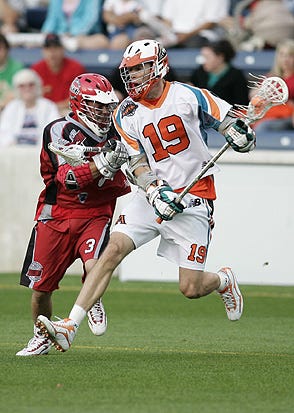 Photo courtesy of Lorne Smith Lacrosse
"There were a lot of really good players (in the MLL Summer Showcase) in a time-span of 15 year-veterans down to people just out of college, and with the MLL expanding to LA in '06 and '07 when I played, we had a lot of really good players, but when I look at the MLL now, I feel like the athletes that grow up playing in high school and in college knowing that the MLL is there, it makes them bigger, stronger, faster than 15 years ago, which makes the game so much more exciting. I think that's true for lacrosse overall. If you look at Division I lacrosse now compared to 15-20 years ago, you probably see the same change in the way that people train and take care of themselves in sports in general," Smith said.
Helping with the growth of the sport out west is the success of the Denver Outlaws, 2018 MLL Champions and one of the four teams that were part of a push to grow the MLL in non-traditional markets. The only remaining franchise of the four, (San Francisco Dragons, LA Riptide, and Chicago Machine), the Outlaws have been able to root themselves in the community, winning 3 MLL Championships in the past 5 years.
"(What felt different about the 2018 team) from the get-go, the veteran leadership that we had. We had a couple veterans that really ran the show, and we had a great coaching staff that let them run the show, but also interjected and brought their own ideas for what the team should be like. It was a really good balance," Schlosser said.
Despite a rocky 1-4 start to the MLL season, Schlosser and his teammates were able to rattle off 6 wins in a row to help secure a playoff spot. From there, they dispatched the Chesapeake Bayhawks before beating the Dallas Rattlers 16-12 in the championship, thanks in part to Schlosser's two goals.
"We had a slow start, I don't know what it was. The way people acted even when we weren't doing well always made me think that we would start winning eventually, and that we had a chance to do something pretty awesome. I remember one point when we were 1-4, it was after a tough loss and Matt Bocklet came into the locker room and basically said that it wasn't rock bottom, but it had to be. From then on out, we won 6 games in a row and really found our rhythm on offense, came together on defense, and everyone really started playing off of each other," Schlosser said. "When we were losing at first, it was almost like we were getting primed and ready to blow up and start finally succeeding. I felt like we had the roster, we had really good depth at every position. Not just depth though, everybody knew their job in any given game. Everyone would do their job, and some games some guys would do their jobs really really well, but every game someone would step up and everyone would do their part well around them to help contribute."
Off the field, Schlosser works as an ambassador for TRUE Temper, working closely with Smith in the development, testing, and promotion of TRUE products.
"The biggest thing for me has been using the composite shafts. In the past, I had never really used them, but now with all the stuff TRUE has been doing, I've been using a bunch of different ones and have been working towards developing different ones that will mix things up a little bit. In terms of the protection line, I think TRUE has taken a ton of steps in the first few years in terms of equipment with the gloves, the arm pads, the shoulder pads, the first batch of them were really good for any level player. I used the shoulder pads a lot and they worked great, so I'm really excited going forward," Schlosser said.
TRUE entered the market with composite shafts, but now in their 5th season of operation, they have boosted the Frequency line of heads and protective gear and look to continue to engineer groundbreaking technology to improve the game.
"Going into our 5th season, we're relaunching our composite handles, so an all new composite handle lineup, Frequency 2.0 protective line with some new pieces and some updates to existing Frequency pieces, a new Source line at a little bit lower price point, so we're definitely expanding what we're doing from a product standpoint. We're also just trying to make great and innovative product at a fair price and trying to work with our retailers to empower them to go out there and be the hub of their lacrosse communities and provide their customers with great gear," Smith said.
TRUE has made a name for themselves but offering new and revolutionary technology that looks at the game a different way and have hollowed out a nice niche in the lacrosse industry through such innovation.
"We have a lot of fun working on the product development side to try to innovate and push the envelope, but in the end, you have to be able to provide retailers with product that will be right for kids in their community, and it won't always be the super innovative thing, sometimes they just need a great glove at a good price, or some shoulder pads that fit, so we're really interested in both sides of that. Both finding things that are new and push that envelope, but also providing what is needed in the right communities that can grow participation and grow the lacrosse community," Smith said.
As a TRUE Ambassador, Schlosser both helps promote and test product, but also helps with the development side of things, creating and offering input to new products that have yet to hit the market.
"I got my first taste of that a couple weeks ago really, I was fortunate enough to get to go down to San Diego to where one of the big manufacturing and brainstorming spots is, so we got to run through the factory and meet with Don Brown, one of the head engineers. We ended up hanging out and talking about new ideas we wanted to put forth, it's really awesome to be around people who are just the best at what they do with guys like Don and guys like Lorne who just know marketing and innovation and can make that happen," Schlosser said.
"A lot of ideas come to our lacrosse business through other things that these guys do. Whether it's golf or hockey or some of the other things that we do at TRUE Temper, like the Flip and the Gecko Grip come from some things in golf, so we're really working from not only our own experiences are life-long lacrosse players and coaches, people that are always out around the game, but from people that come from outside lacrosse and have different ideas. We look at some of those technologies and ask if it would work for lacrosse. There's a lot of 'what if' questions, we'll try to make a prototype and test those 'what if' theories, and if you can feel a difference or feel that it does something, it'll make it to the next step and take it from there. I love that process of testing new ideas and trying to see what they do," Smith said.
A big hurdle when it comes to product development is finding the next thing that will change the game for the better, and people like Lorne and Mikie are constantly trying to find the next best thing.
"We have ideas all the time, and some of them are crazy, but that's one of the things in product development that you have to do, is live in the land of fantasy. Not worry about any of the rules of what you think is or isn't right, and just throw the rules out the window and live in fantasy world for a while. Sometimes you get these crazy ideas that 9 times out of 10 will be complete fantasy, but that could lead you to that one idea that can be a reality and you can actually make it and it becomes something. That's a good place for coming up with new ideas. It is also a huge advantage to have True Temper engineering and manufacturing expertise driving everything we do – sometimes new innovations just show up from our engineers. It is a real team effort," Smith said.
Apart from their work with TRUE, both Smith and Schlosser continue to help grow and promote the game in as many ways as they can. Schlosser is a coach for his former Davis program, and Smith runs Lorne Smith Lacrosse, a West Coast overnight camp that offers full immersion in history, community, competition, growth and core values both on field and off.
"(Coaching) has honestly helped me learn the game a lot better. When I was playing I was never really good at picking things up on the fly and actually learning what was going on, I was kind of winging it a lot and trying to make plays without thinking. Now that I've spent a lot more time coaching, I'm understanding how to be a student of the game and really understanding different concepts," Schlosser said.
"I think that coaching gives you a different perspective that shows you the reasoning behind why you do certain things. You realize the method to the madness about why you have to do things a certain way and why a team has to play together in a certain way to get results as a team, and when you're in the moment as a player, you lose sight of the big picture," Smith said.
Both Smith and Schlosser remain hopeful for the growth of the sport and will continue to strive to create exception product available to all players.
Both Smith and Schlosser remain hopeful for the growth of the sport and will continue to strive to create exception product available to all players.
"We're making the best product that we can make, and for the time being, the product is the best advocate and our best marketing is just putting the product in people's hands. When they try the composite shafts or when they get the new Key head that comes out soon, the product is going to speak for itself. That's how we'll go about making our name, and after that, it's working with our partners and with our retailers to let them be successful. We believe in the power of the local lacrosse shop, and we want that local lacrosse shop to be the hub of the community, so we want to build our business around them as well," Smith said.
"I'm very fortunate to be around guys like Lorne who have helped me out a lot, and it's really cool to be a part of a company that really cares about the things that matter," Schlosser said.