Introducing the next installment of our newest blog series, Monkey Business. We take the time to speak with some of the biggest names in lacrosse, past, present, or future, to get an insight on their path in the sport, the legacy they want to leave, and the steps being taken to #GrowTheGame.
This summer marked one year after Atlanta Blaze midfielder Deemer Class decided to join the growing wave of professional lacrosse players choosing to make lacrosse a full-time career. With MLL contracts typically not providing enough income to ditch the daytime job, Class made the bold decision to leave his job on Wall Street to focus on playing, coaching, and running clinics around the country.
"It was definitely the toughest decision I've had to make in my life in terms of a career or sports or anything like that. I had just put in a really good year in New York and had a great team of people that I worked with and had a great experience, but I just knew that playing and coaching was what I was passionate about. I really love the sport but last year I was underperforming (in the MLL) and really didn't want that to be the end of my career. I was at a crossroads, but thought that I was young enough and could kind of dive in to see what happens. I knew that if I worked really hard and stayed passionate about playing and passionate about teaching, I was going to make things work," Class said. "It's been about a year now and it's been an amazing experience, I haven't regretted it for a day."
One of the most successful ventures for Class has been the invention of RBDC Lacrosse, a collection of traveling clinics and private lessons that he runs alongside New York Lizard and Team USA member Ryan Brown. The Baltimore natives founded RBDC after their respective graduations in the fall of 2016. Despite never being teammates, Class and Brown worked with the same strength and conditioning coaches and became friends thanks to their various matchups through high school and college.
Photo Courtesy of RBDC Lacrosse
"We did 3 or 4 clinics that fall (of 2016) and had some success, but once I decided to make the full-time commitment to playing and coaching, that was when I was able to dive right into it and it started to take off. It kind of started as a side thing, we enjoyed teaching the techniques of shooting that we had learned, then we started seeing a need for it and people were really interested in learning what we were teaching."
From there, RBDC has grown exponentially, now offering multiple clinics a year in various cities across the country, as well as private lessons for teams or individuals, workout plans and specialized drills, and online webinars that allow for players to receive coaching remotely.
"While our niche is obviously shooting, but we focus on all offensive aspects. The depth of what we do depends on how much we work with a program, but we're always trying to figure out different ways to keep adding value to players and to programs. We've been trying to grow more of an online presence with webinars and shooting videos and all, and the feedback on that has been really well. We want to reach the players that we don't get to work with or the players that don't have the opportunities that someone in Baltimore or one of the lacrosse hotbeds would have."
Despite focusing on certain aspects of a players' game, Class stressed the importance of helping the individual player, and investing as much in the players they work with as the players do in RBDC.
"We're going to continue to focus on bringing the best product to players around the country and around the world. We'd love to keep growing with what we're doing, but we never want to lose sight of why we started, and that's developing relationships with the players and really caring about the betterment of the players. As long as that remains our focus and we continue to do right by the boys and girls that work with us, that's what matters most."
Prior to his time with RBDC and the Atlanta Blaze, Class was a two-sport athlete at Loyola Blakefield High School in Baltimore, Maryland, where his athletic ability gave him the opportunity to play both college football and college lacrosse.
"When I took time to evaluate some of my opportunities, I had some 1-AA football interests, a few Ivy League football interests, maybe even the chance to play both, but the biggest thing for me was competing at the highest level. I think at the time, even now really but I may be a little biased, the ACC is the best conference in college lacrosse, so the opportunity to play for Duke was an amazing one. They were the only ACC school to recruit me, and combined with the academic opportunity, it was a no-brainer."
Photo Courtesy of Duke Athletics
Class and the Blue Devils won the National Championship in both of his first two years on campus, just the second and third championships in Duke's history.
"My freshman year, [Duke] had come off a couple tough losses in the Final Four. They had made six Final Fours in a row, so the work ethic was definitely there. Coach Danowski has done an amazing job over his tenure building that culture. We started that season 2-4, but then this vibe and this culture started to really grow. The looseness, the confidence, and really the care that we had for each other started to flourish and we started riding this wave of momentum. Guys had so much fun playing, guys were confident, guys were loose. We weren't cocky, but we were confident in what we were doing, and the leadership from the junior and senior class was amazing," Class said. "The sacrifices guys made for that team really spoke to the character that we had in that locker room, and after our first championship, that leadership flowed over into the next year. It was amazing to be a part of, and I think you never really know what the exact ingredients are, but to feel it and be a part of that just feels different and feels special."
While at Duke, Class wore #10, the same number worn by former Blue Devil Jimmy Regan, who lost his life serving with the Army Rangers in Iraq in 2007.
"When Casey Carroll came back from serving in the Army Rangers and played his extra year of eligibility, he talked to me about Jimmy's story and told me how much Jimmy had meant to him and meant to the program. My first year, in 2013, we did a military appreciation day and I actually got to meet Jimmy's parents. We put Regan on our jerseys and honored him and his impact in not only our community, but with serving his country. I am really proud that I got to wear #10, represent him, and get to know his parents, it was something that really made my time at Duke even more special, getting to honor someone who made such great sacrifices."
In addition to the national titles, Class railed off 3 All-American seasons, became one of just two Duke midfielders in history with over 200 career points (135 goals and 65 assists), and broke the Duke midfield-record for most goals in a season with 50 in his senior year.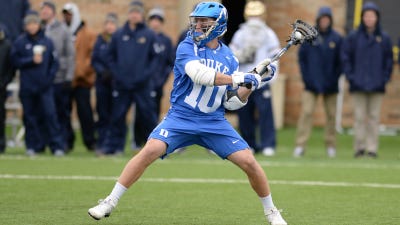 Photo Courtesy of Duke Athletics
"When I think about the games that I did well, I never felt like I was forcing it. I let the game come to me, and I was trying to play within myself. As an athlete, when you put too much expectation on yourself, I think it can have a negative effect. In my four years, I always felt like I played with very selfless teammates who shared the ball and worked together, so we always had an understanding that someday might be your day, the next day might be the next guy's day, but you always have to be ready to step up when your name is called or when you get the opportunity. I felt like I put in a lot of work in my career to be ready for my opportunities and when I got openings or guys drew attention away, I was ready to capitalize."
From there, Class was drafted 10th overall in the 2016 MLL Collegiate Draft to the Atlanta Blaze in their inaugural season. He put up 8 goals and 3 assists before being traded to Charlotte, only to get traded back to Atlanta in 2017. Since then, he has become a constant threat for the Blaze, scoring 24 goals, 5 two-pointers, and adding one assist to make him the second highest scorer on the team in 2018.
"One of the biggest changes [from college to the pros] on the field is that all-of-the-sudden, you're playing against guys that were All-Americans when I was in middle school watching them on TV, so that's a big shock factor, but it's also really cool. That also speaks to now, more than ever, more and more guys who are really talented are playing lacrosse and making lacrosse full-time. The product on the field is fantastic, and yeah it's fantastic in college, but you step out of college and are playing against savvy veterans and the best players in the world. The other adjustment is preparing your body when you don't have 5 or 6 days a week with your team. That was difficult for me and didn't go the way I wanted it to in my first year, but after seeing it and being able to commit myself to it, I felt like I was able to make changes and start to get back on the path of where I want to be. I don't think I'm there yet, but I think I have a lot of room to grow."
Photo Courtesy of Deemer Class/Twitter
As an East Coast Dyes sponsored pro, Deemer works closely with the Baltimore-based company to help improve products and test them on the field.
"It's funny actually, Greg and Mike [ECD's Founders] went to my high school and they reached out to me early on in college and wanted to get the word out a bit with some of their wax mesh and stuff. Duke got some of those pieces of mesh, so I got to try it out. Greg started to get a bit of a following, he strung a few sticks for me and I love them. It's just been really cool to be with a hometown connection, but on top of that, they've been an inspiration to me as an entrepreneur to work really hard. A lot of people say, 'hard work pays off', but that's one of their mantras, and they really live it out."
When asked for any advice he could leave to aspiring players wanting to move to the next level, Class stressed that the work a player does on the field is not all that goes into taking that next step, and passion can be all the motivation needed.
"There's a lot you can learn with drills and everything, but the best advice I can give is to find what you're passionate about and fully commit to it. If you do that and you're hungry enough, you'll find ways to get better. You'll be more aggressive to get where you want to be. If you find something your passionate about, whether that's lacrosse or not, and you commit to it, you'll find ways to make it happen."
Now in the MLL offseason, Class has shifted his focus to his coaching career at McDonough High School in Maryland, as well as continuing to grow both the men's and women's side of RBDC in the near future.