Starting on January 1st 2022, all lacrosse players must have a NOCSAE certified shoulder pad. The rule went into effect for boy's and girl's goalies in 2021 and now applies to all field players as well. The exact ruling is as follows:

"Under mandatory equipment listed in Rule 1-9-1, shoulder pads and chest protectors used by players must be designed for lacrosse. Additionally, goalkeepers must wear a chest protector designed for lacrosse that meets the National Operating Committee on Standards for Athletic Equipment (NOCSAE) ND200 standard at the time of manufacture beginning January 1, 2021, while shoulder pads for field players must incorporate the NOCSAE ND200 lacrosse standard for chest protection beginning January 1, 2022."

Source: https://www.nfhs.org/articles/restart-protocol-amended-in-high-school-boys-lacrosse/

This is signified by a small stamp or tab attached to the shoulder pads. Here are a few examples of that certification circled in red: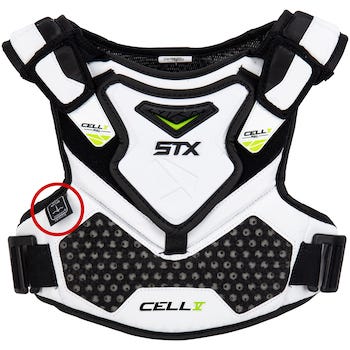 Reasons for NOCSAE ND200 Chest Protector Rules
Commotio Cordis in Lacrosse
How new pads protect against Commotio Cordis
Why the Changes to Lacrosse Pad Rules?
Lacrosse is one of the fastest sports in the world. It combines finesse, skill, and physicality into one amazing sport. Because of this speed and physical play, lacrosse players must protect themselves in key areas to avoid injuries. This is seen in approved helmets, requiring mouth guards, and of course using shoulder pads that fit the new ND200 rules to protect against Commotio Cordis.
What is Commotio Cordis?
Commotio Cordis is a Latin term that translates to, "agitation of the heart". It occurs in rare circumstances when there is a low-impact trauma to the chest and heart area. This can be caused by a shot or pass from a lacrosse ball. The impact can disturb the heart's normal rhythm and start a sudden cardiac arrest. If this occurs, immediate CPR and the use of a defibrillator is necessary to restore the heart's normal rhythm.
How Do These New Pads Protect Against Commotio Cordis?
With all that being said, how do these new pads protect against Commotio Cordis? What added benefit do these new pads have over older models? Not all of the certified pads take the same approach to solving the problem. All of the new certified pads create an extra gap between the player's chest and the impact. For example, the Maverik EKG Shoulder Pads utilize a hard plastic outer shell to protect against impact. It sits outside of the liner and sticks outward off of the chest. While the STX Cell 5 Shoulder Pads use what feels like a bubble of air that rests on your chest. It creates that same gap of protection but flush to your body rather than sticking up off of the chest. These additional pads are what reduces the threat of Commotio Cordis and allows these pads to meet the NOCSAE ND200 rules for 2022. Some previous models of shoulder pads have an added heart or chest pad but unless they have the NOCSAE stamp or tag, they are not legal under the new rules.
Get NOCSAE Approved Gear at LacrosseMonkey!
This article was originally published on September 26, 2021, and has been updated with new information.