Introducing the next installment of our newest blog series, MonkeyBusiness. We take the time to speak with some of the biggest names in lacrosse, past, present, or future, to get an insight on their path in the sport, the legacy they want to leave, and the steps being taken to #GrowTheGame.
Lacrosse has always been a community built around the players. Without much mainstream media (although…), and with a smaller amount of hotbeds across the country compared to other sports, the growth of the game has been dependent on lacrosse players helping other lacrosse players, and the inherent good that the lacrosse community stands for. This is never more apparent than during the month of October, when players and coaches alike rally around things like the LaxStacheMadness, the Movember Foundation, and the new Corners for Cancer Challenge, an effort to raise Breast Cancer Awareness put together by the Women's Professional Lacrosse League's Taylor Cummings and Lauren Lea.
"October is Breast Cancer Awareness month, and obviously that is a deadly disease that effects nearly everyone is some way, shape, or form. Really everyone, in a way, can relate to someone important to them being affected by that disease somehow. I had an idea similar to the ALS Ice Bucket Challenge, because I think that most people really didn't know much about ALS prior to that, obviously a lot of people already know what Breast Cancer is, but I thought that within the lacrosse community, there really hasn't been anything quite like this before, so I texted Taylor Cummings and told her that I wanted to bring some good to the lacrosse community, do something fun, make people get outside and not only practice lacrosse, but bring breast cancer awareness on a spectrum," said Lea.
Cummings and Lea created a video outlining the plan for what they called the Corners for Cancer Challenge. The idea was simple, record yourself shooting five shots to any corner of the goal, challenge a friend to do the same, and if they didn't reply within 48 hours, they had to donate money to the Breast Cancer foundation of their choice. Since then, there have been over 300 videos posted using #CornersForCancer, and players like Team USA's Rob Pannell and Ryan Brown, MLL Champ Mikie Schlosser, and USC Assistant Coach and Atlanta Blaze midfielder Deemer Class have gotten in on the action.
"(The reaction) has been unbelievable, I didn't expect it to take off like it did. I think it's awesome that we're starting to see a lot of the collegiate programs getting in and doing the challenge too. I originally challenged my alma mater, the University of Florida, to get in on the challenge, and they haven't yet, but a lot of the other players have done it. We're seeing all different levels getting in on it from DI to DIII, even coaches, I saw Coach Petro [Johns Hopkins' Dave Pietramala] do one a few days ago, so it makes me really happy to see people coming together and doing good in our community. It goes to show that when we do come together, the lacrosse community is good and can do some really cool things."
Lea, a member of the WPLL's Philadelphia Fire, is the first women's professional lacrosse player to be sponsored by East Coast Dyes, who also announced their efforts to support Breast Cancer Awareness by creating the BCA Venom Women's Mesh Runner, with a portion of the proceeds going towards Breast Cancer Research.
"I was extremely humbled and honored that Greg and the guys at ECD would look to me in the first place. Coming out of college, I wasn't the All-American, didn't win a National Championship, was never a Tewaaraton finalist, anything like that, but obviously they saw something within me being kind of the grinder and the underdog, and thought that they could use me to help build their women's side when they released their mesh, and it's been great. They've been looking towards me to give them some aspects of the women's game that they could build more products off of, and I'm not really able to say right now, but we've got some good things planned."
What originally started as a wax mesh company in 2011, East Coast Dyes has grown out to providing heads, shafts, and complete sticks, and brought in Lea to help grow the women's side of the game with the introduction of their Venom mesh after the NCAA rule changes prior to the start of the 2017 collegiate season.
"I was all for (the introduction of mesh). I was typically a traditional four leathers kind of girl and played with that all throughout college. I graduated in 2016 so the rules weren't in effect when I was at the University of Florida, but when I signed with East Coast Dyes, they had just released their mesh, so I was all for it. I grew up playing with a guy's stick with my brother in the backyard, and I think it brings a whole dynamic aspect to the women's game. There's more control, there's more hold, there's more creativity, and I think we are obviously going in the right direction. We've seen so many different types of meshes now, and I think there is no wrong with the mesh. Once girls try it, I think there's no turning back."
Women's lacrosse has grown substantially in recent years, and at an over 30% growth from 2012 to now, it is the fastest growing sport in the country, and with recent rule changes like the introduction of mesh and the addition of a women's-specific helmet to the game, Lea believes that the only place to go from here is up.
"There's so many changes which we haven't really seen ever before. There's so many stringing rules and rules within the women's game with checking and goggles and everything, but my whole thing with the introduction of helmets is that I don't think we're too far off from seeing women in more protective equipment. On the other hand, my opinion is that if you put me in a helmet, you might as well put me in other pads and have my rules be more similar to the men's game. It's weird if you think about it, there really isn't any other sport that is so divided with the rules, I think lacrosse is the only sport that the rules are so different with the genders. I think the technology is great and there's only been more advancements within our game, and I think that it's really going to put lacrosse on the map."
Aiding in the growth of women's lacrosse was the introduction of the WPLL, a players-centric professional league that looks to grow youth players both on and off the field. With their inaugural season in 2017, the WPLL introduced new rules to help with the pace of play and make the games more engaging for the fans, all while trying to reach non-traditional lacrosse areas in the process.
"We've seen a bunch of changes in the men's professional leagues and I think that Paul Rabil is doing a great thing with the PLL, and hopefully the Women's Professional Lacrosse League can get just as much attention as the men's. I think by changing all these rules and by changing the mesh and all that, hopefully we'll be on one of the biggest stages and be one of the biggest sports in the world. The way to make that happen is to make these small changes, and I'm excited to see it happen and excited to see what lacrosse is going to be like in the future," Lea said.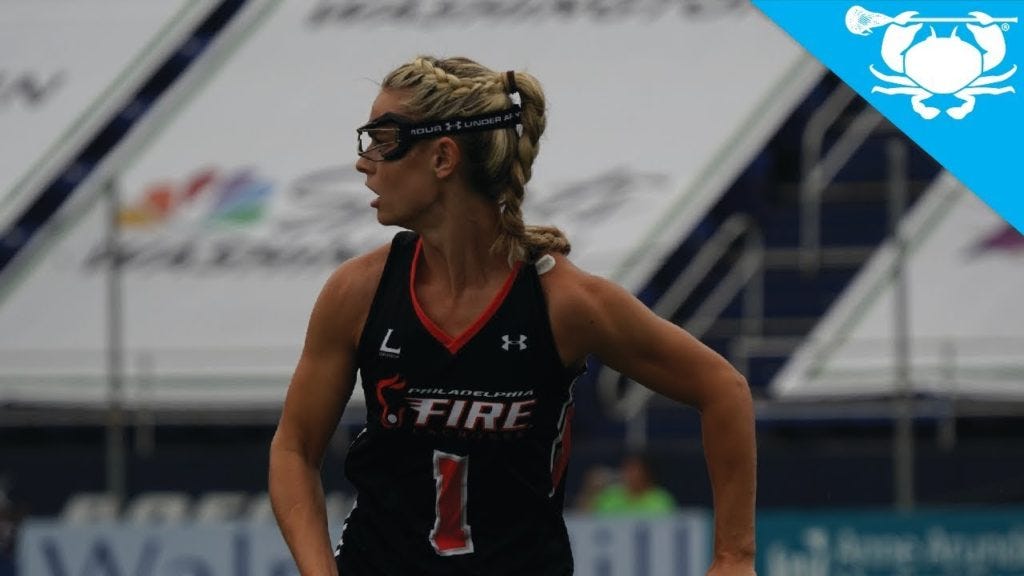 "This was the inaugural season for the Women's Professional Lacrosse League and I think it's great. I think the growth will only keep up in years to come. We saw with the MLL, it took a long time to get to one of the main stages, and I don't think there's anything wrong with having two leagues (the WPLL competes in the women's professional market with the UWLX), I think that competition grows change, but that being said, I think that once we get our feet dug in the sand, the WPLL is going to do some great things. We are already doing great things in our community and inspiring girls to fight for change, and I think that one day we can be on the same platform as some of the men's leagues."
Upon graduation, there was no professional league, and Lea was coming off of a shoulder injury before joining the WPLL but elected to try to keep making lacrosse a priority, and fought to return to the field, being selected by the Philadelphia Fire in the inaugural draft.
"When you're growing up, you always dream of something like that along the lines of a professional career or maybe one day playing for the US Team, and at the time, the US Team was the only professional aspect of the game, so that was the only thing in the back of my mind really. My last game at Florida, I had been playing this game for so long and to think that that was all coming to an end was just devastating. There's not a lot of sports that don't have a professional aspect, and we didn't at the time, so I thought that my career was over, which is really sad. It's something that you grow with, it's something that you love doing. There was a full year of not having anything, so I was kind of in a slump, not knowing what I wanted to do, but then the WPLL announced that they would be having a draft and I kind of thought about it, didn't know if I wanted to put my name in the hat, then a lot of friends encouraged me that I was going to get picked up, so I said 'you know what, why not? What's the worst that could happen?' I was fortunate enough to be picked up by the Philadelphia Fire, and that was it."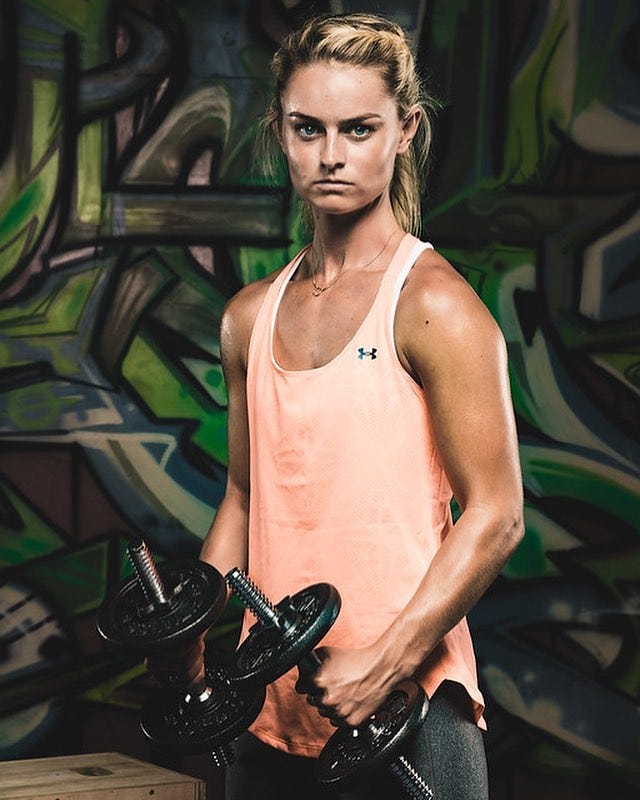 "I think I have an athlete mentality where I'm not going to give up and I'm going to try my best 100% to get back to be not only the best player I can be, but the best teammate I can be as well. That was definitely a hard transition, I never really had injuries in college and it was one of the biggest surgeries I had, so it put me back a long time, but I just had to work 10 times harder than I ever had to get back. I was maybe only 5-7 months out from surgery when I started playing again, and I don't think I was 100% healed when my season came around, but that didn't matter to me. I thought that I was ready, and I worked with some of the best physical trainers in the world to which I owe all my success to them getting me back on the field, but you have to have that athletic mentality to where that's not going to stop me, it's just another bump in the road. There was definitely a lot of pain and blood and tears, but I feel like I'm back better than ever, and hopefully for seasons to come, I'll be even more in shape and back to helping my team however I can."
Lea stressed the importance of being coachable and always working to get better when asked what advice she had for players looking to rise in the ranks.
"Definitely keep your stick in your hands and listen to what people have to say, even if they're criticizing you. You need to take what coaches are saying and not feel like they are attacking you in any way. If they're trying to coach you up, they're just trying to make you better. Make those around you better as well by being a good teammate and a good friend. Keep the stick in your hands, try to practice at all times, and just have fun with it. If you're going to love the game, you should have fun with it too."
While the new ECD Women's products are still under wraps, you can stay up to date with everything they're doing via the ECD Youtube Channel. Lea puts out videos weekly with reviews and other content surrounding the women's game.