Lacrosse is a sport that constantly challenges its players. If a player wants to improve or change an aspect of their game or just wants try something new altogether, the head is a good place to start. The head of the lacrosse stick is an extension of the player, with the ball cradled in like a glove. Choosing the right lacrosse head is paramount to making any improvement in the game. Our The Best Lacrosse Heads for 2020 guide will explain the best types of heads for position, experience and skill level, as well as the details: Strung or unstrung, best pocket, best shape and best material.
Best Lacrosse Heads for Defenders, Middies and Attackers
Choosing the best lacrosse head can seem daunting at first, but just identifying individual needs is a great first step. These simple components: position, experience, level of play and overall value make up the characteristics necessary to find your personal best.
Each lacrosse position has individualized needs in a lacrosse head:
Attack:
Narrow head for better ball control
Tight throat for increased accuracy and precision when shooting or passing
Mid to low pocket for ball retention and control
Midfield:
Rounded scoop for quicker groundballs from different angles
Most often mid pocket; yet individualized
Durable for defense yet lightweight for shooting
Defense:
Wide face
Durability for hard checks
High pocket for quick release when clearing the ball
---
Best Defensive Lacrosse Heads:
The Maverik Tank U Unstrung Head has consistently offered the best in defensive heads since 2016. Perfect for the defensive player who's aggressive on ground balls and checks, the durability is coupled with a wide face for interceptions and channeling the ball into the pocket for optimal control.
Best Position Use: Defense
Why We Love It:
Reinforced sidewalls for improved durability
Universal for all levels of play
Wide face
Maverik's 4-Strut Design for maximum stiffness
Two screw holes – improve durability and reduce rattle
Level 5 Bottom Rail designed for high pocket
Multiple stringing holes for customization of pocket

---
Best Attack Lacrosse Heads:
The Warrior Evo 5X Unstrung Head has all of Warrior Sport's greatest attributes combined in one technologically advanced head. Best for the elite goal-oriented attack or midfield player, the Evo 5 reduces weight while adding stability. The Tilt-Tech string hole design offers many options for string tension individualization.
Best Position Use: Attack, Midfield
Why We Love It:
Bottom Rail for mid to low pocket
Tilt-Tech string hold improves pocket tension
Sym-Rail for lightweight stiffness
Universal head for all levels of play
Only con: Not compatible with shafts that have a foam end due to the inner Loc-Throat system

---
Made popular by Jordan Wolf of the World Champion Team USA, the Maverik Optik 2.0 Unstrung Head offers the latest in technology Optimizing its lightweight, stiff design, the Optik 2.0 increases ball control while maximizing hold. Accurate and consistent with a rounded scoop called Speed Scoop that improves groundballs from multiple angles, this is the head for an elite attack player seeking velocity and accuracy while maximizing speed.
Best Position Use: Attack
Why We Love It:
Lightest head produced by Maverik
Duratough material increases stiffness and consistency in all weather
Level 2 Bottom Rail designed for a low-mid pocket for power and quick release
Optimal customization through multiple stringing holes
High School and NCAA legal
Speed scoop

---
Warrior is amping up their game with consistency in the pocket of the Warp Evo Pro Strung Head. Utilizing a Kevlar mesh with a wide diamond pattern to form a deep pocket, the Warp Evo Pro has three pocket options to tailor to individual players. Ideal for shifty, feeding attackmen who like to finish inside, the Warrior Evo Warp Pro is consistent in any weather.
Best Position Use: Attack, Midfield
Why We Love It:
Kevlar mesh
3 Whip options allow the player to choose a head based on their skill level
Designed for elite high school and collegiate athletes
Warp, Loc-Throat and Sym-Rail technologies for a firm, stable head attachment without extra weight
Only con: Not compatible with shafts that have a foam end due to the inner Loc-Throat system

---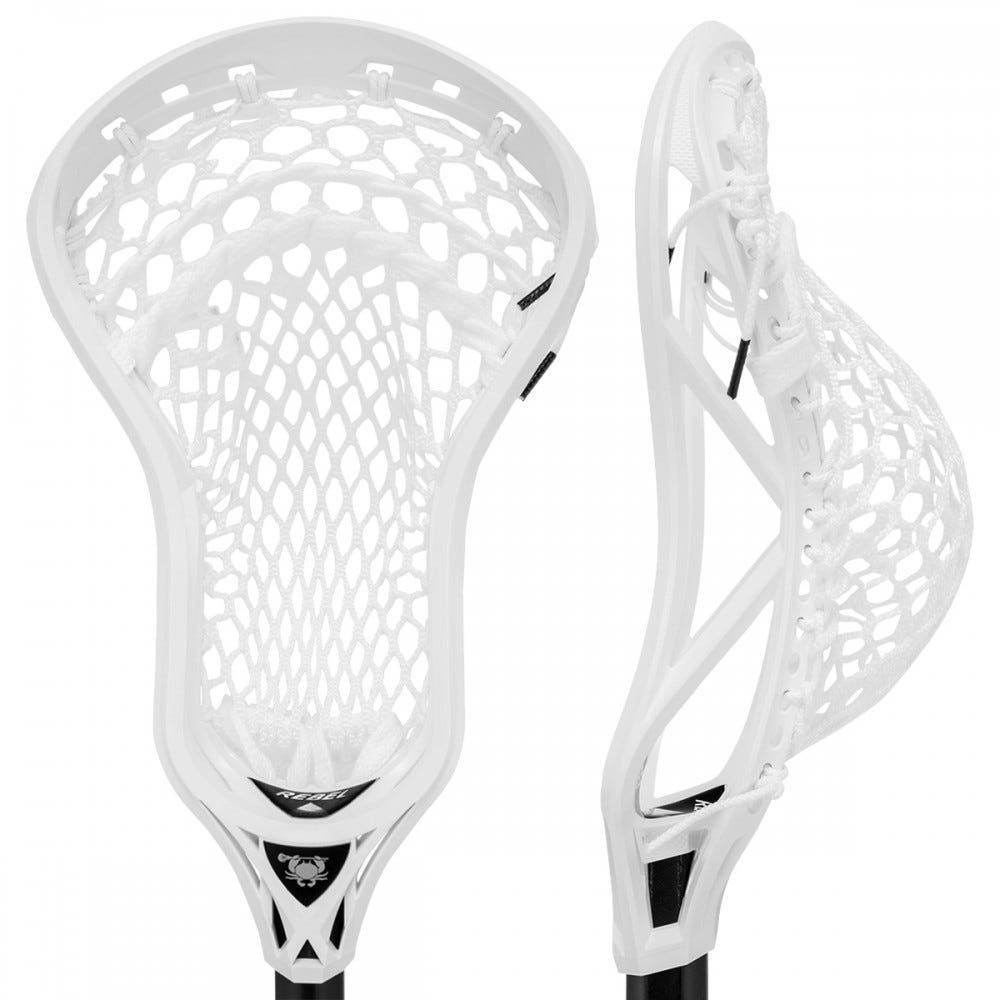 Strung with the notable HeroMesh 2.0, the ECD Rebel Attack Head is designed for accuracy, power and control. Whether powering through a shot or picking up a ground ball, the ECD Rebel makes it look easy. The head has a slightly pinched scoop and aggressive flare to support the elite attack player's game.
Best Position Use: Attack, Midfield
Why We Love It:
HeroMesh 2.0 designed to provide ultimate feel and control
Fibers are durable and do not react to weather changes
Lightweight
Defensively holds its own for the midfielder who plays both positions

---
Best Midfield Lacrosse Heads:
The Warrior Burn FO Unstrung Lacrosse Head has perfected the faceoff head with its asymmetrical design striking the balance between flex, strength and recovery. It utilizes an asymmetrical sidewall profile to wrap the ball without impacting strength. An original head design that accommodates all faceoff styles, each as unique as the player.
Best Position Use: Midfielder, specifically designed for faceoff
Why We Love It:
Designed with World and Collegiate Champion Trevor Baptiste
Meets al NFHS, NCAA, CLA and FIL requirements
Accommodates multiple faceoff styles
Shorter throat for maximum leverage and control
Best application is specific for faceoffs

---
The STX Stallion U 700 Unstrung Head was released in 2017 after a complete redesign of the Stallion Series. New materials allow dramatic increases in stiffness (20%) and decreased weight (5%) than prior models. Still utilizing the C-Channel design perfected in the Stallion Heads, the Speed Scoop Technology adds to make this a dominant lacrosse head for players of many skill levels.
Best Position Use: Midfield, Defense, LSM
Why We Love It:
Universal head for all levels of play
Updated throat design
Made for mid to high pocket placement
Minimizes drag on grass/turf for superior ground ball pick up

---
The Warrior NOZ 2 X head has been given numerous accolades ranging from 'Best Faceoff Head' to 'Best Offensive Head of the Decade,' with each one well deserved. Lightweight and stiff due to patented air infusion technology, this head provides a classic shape and design with a flatter scoop. Popular among high school players, this universal head makes the cut for any list of Best Lacrosse Heads.
Best Position Use: Midfield, Attack, Faceoff
Why We Love It:
Universal head for all levels of play
17 individual stringing holes along Bottom Rail for numerous stringing options
Patented flare design maximizes faceoff performance
Flex profile improves power and durability

---
Released in 2018, the Nike Lakota 2 U Lacrosse Head had lacrosse players holding their breath in anticipation. Offering a great price point, the Lakota 2 is the best value for a middie head. It has a quick release and optimal ball control, making this the head for advancing lacrosse players seeking a quick release head with great pocket positioning.
Best Position Use: Midfield, Attack
Why We Love It:
Secure Lacelock Technology holds the stringing knots securely
Deep mid angle pocket setup
Perfect head for ground ball pickups
Head shape optimizes shot power and accuracy
Universal head for all levels of play

---
A great head with great value, the STX Super Power + Head is uniquely shaped to maximize playability. This is a great, all-around head for players of all levels. Streamlined and aerodynamic, the Super Power + will remain on the best list for years to come.
Best Position Use: Midfield
Why We Love It:
Universal head for all levels of play
Multiple stringing holes support custom stringing
Reinforced scoop strengthens scoop and side rails

---
What Makes the Best Lacrosse Head?
After choosing the best lacrosse heads for attack, middies or defense position, look to define individual features: strung versus unstrung, head shape, and mesh type are three of the necessary features to consider.
Strung vs. Unstrung
Traditionally, buying a strung lacrosse head was best indicated for a beginner. However, new technology and advancements by companies such as Warrior and East Coast Dyes (ECD) have changed the playing field. While some still prefer a head with numerous stringing holes for greatest individualization in their pocket, shooting strings and overall design, the clean appearance and multiple pocket options offered in a strung head such as the Warrior Evo Warp Pro Strung Head has appeal to elite players.
Head Shape
Head Shape varies based upon skill level and position played. A wide head is easier for beginners and defensemen. The wide face improves interceptions and channels the ball easier. As ability improves, the head shape must become more precise for accuracy and optimal control. A narrower head is preferred by an attack player. A flatter scoop improves a player's ability to pick up ground balls. Finally, asymmetrical heads, such as the Warrior Burn FO Head, are the best lacrosse heads for middies who take the faceoffs.
Mesh Type
Mesh type falls among the most trending aspects of lacrosse individualization currently. Fiber composition is changing, making the mesh more weather resistant, ensuring consistency in play regardless of weather conditions. Soft or hard mesh offers individualized benefits for players looking to tailor their head further.
Soft Mesh:
No break in time necessary
Improved ball feel
Easier to string
Loses shape with time
Mesh can fill with water during inclement weather
Hard Mesh:
Less rattle
Better life expectancy
Consistent pocket shape
Harder to string
Less ball feel
Requires break-in time
The Best Lacrosse Heads for 2022 (with reviews)
The Top 10 Best Lacrosse Heads
1. STX Surgeon 900 Unstrung Lacrosse Head
2. Maverik Optik 3.0 Unstrung Lacrosse Head
3. Epoch Integra Z-One Unstrung Lacrosse Head
4. Warrior Evo QX Offense Unstrung Lacrosse Head
5. Nike Lakota 3 Unstrung Lacrosse Head
6. Gait Torq Unstrung Lacrosse Head
7. Maverik Tank 2.0 Unstrung Lacrosse Head
8. STX X20 Unstrung Lacrosse Head
9. ECD Lacrosse Weapon X Unstrung Lacrosse Head
10. Maverik Optik U Unstrung Lacrosse Head
Choosing the Right Type of Lacrosse Heads by Position
Do Goalies Use Different Heads?
Best Lacrosse Heads for Goalies
Factors to Consider When Selecting a Lacrosse Head
Best Lacrosse Heads by Position
Best Attack Lacrosse Head
Best Defensive Lacrosse Head
Most Versatile Lacrosse Head
Best Value Lacrosse Head
Find the Best Selection of Lacrosse Heads at LacrosseMonkey!